The Grand Final for the 2023 Young Horticulturist of the Year Competition took place on Saturday 6th May at the prestige Emmanuel College, Cambridge. The college is one of the old colleges, founded in 1584 by Sir Walter Mildmay, Chancellor of the Exchequer to Elizabeth I. It was a close-run contest with Lewis Barrett, South-East and James Douglass, Scotland running neck and neck for most of the rounds, however, it was Lewis who won through by a margin of just 3 points, to take this year's prize!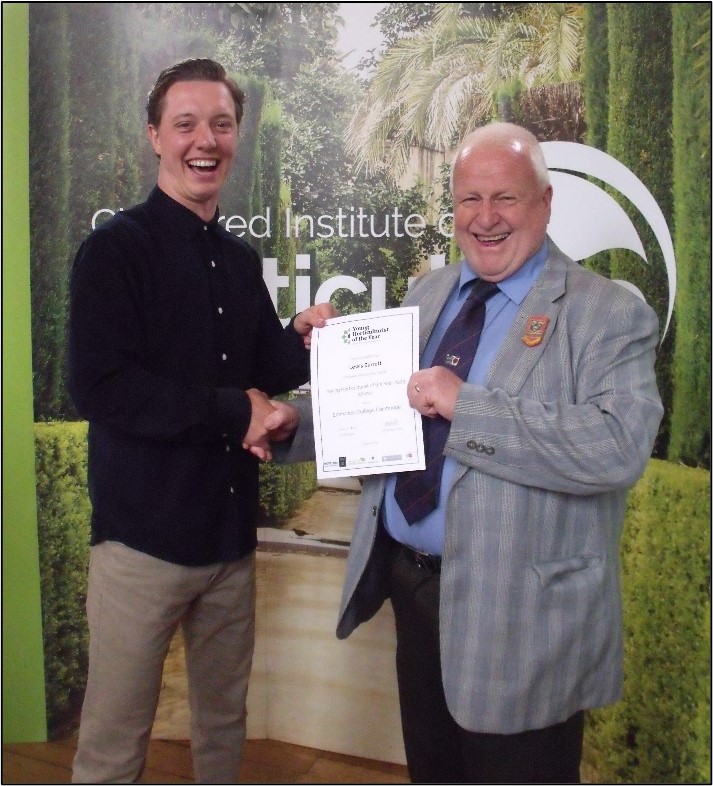 Lewis is in his third year of the Kew Diploma, at the Royal Botanic Garden Kew, and will be joining the Great Broad Walk Team following his Kew Diploma. He completed his level 2 and 3 RHS Diploma's at Hadlow and Capel Manor College as well as running his own garden maintenance and landscaping business in Kent. Lewis has a keen interest in herbaceous perennials and ecologically informed planting, both with a view to climate change and environmental resilience.
"I am immensely proud to be named Young Horticulturist of the Year, a testament to the hard work, support, and passion that have guided me on my horticultural journey. The competition at Emmanuel College was fierce, and I feel honoured to have been amongst such knowledgeable and passionate horticulturists. Winning this accolade feels like the crowning achievement of my student journey as I near graduation from the Kew Diploma. With gratitude to the Chartered Institute of Horticulture for organising a brilliant event, I look to the future with great optimism, inspired to continue making a positive impact in the field of horticulture."
As the winner of this year's competition, Lewis receives the £2,500 travel bursary provided by the Percy Thrower Trust, which he will be able to use to fund a horticultural venture anywhere in the world.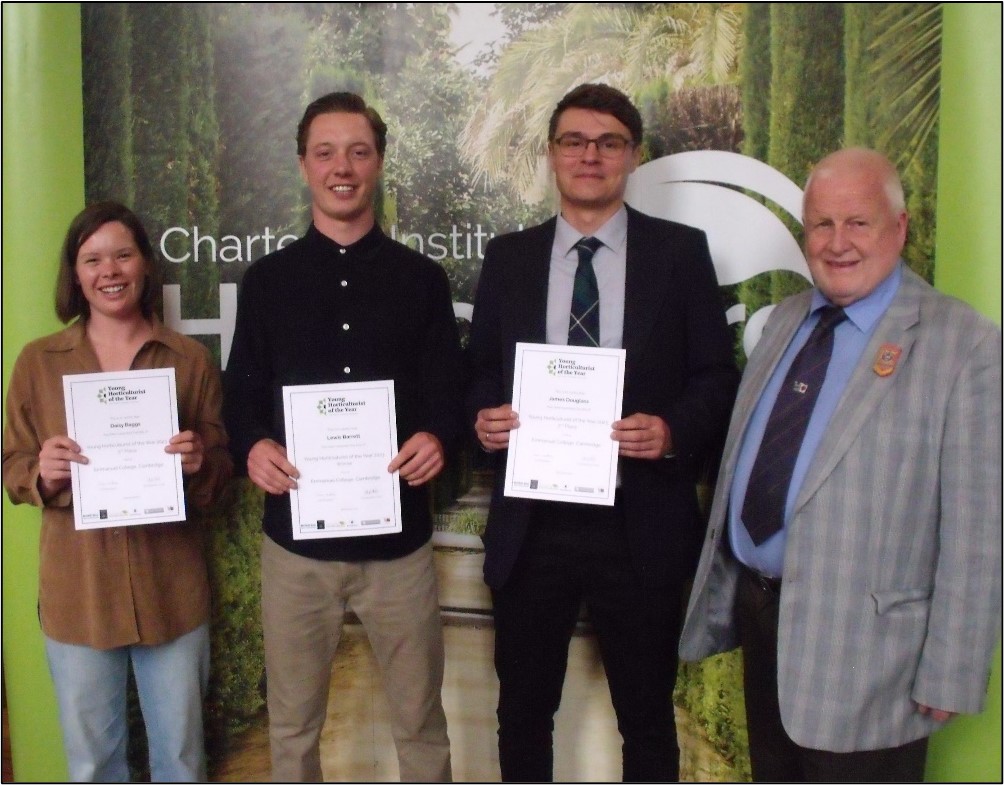 Second place went to James Douglass, Scotland. James is currently in his third year of the BSc Horticulture and Plantsmanship at Royal Botanic Garden Edinburgh, while he works part time at Damhead Nursery, Lothianburn. James has recently completed a research project for the Botanic Gardens Conservation International conservation charity on Australasian tree species and hopes to specialise in plant health research in both horticulture and agriculture after graduating.
Third place went to Daisy Baggs, South-West. Daisy is a gardener with the ornamental team at the prestige The Newt in Somerset a public garden and hotel. Here Daisy is involved with maintenance and development of the formal areas of planting, taking garden tours and assisting with garden events. Previously to this she worked in Cumbria doing garden maintenance in a mixture of residential properties and large private gardens, alongside studying for the RHS Level 2 and 3 qualifications. Daisy has a keen interest in trees, ericaceous shrubs and woodland perennials. She will be joining the Kew Diploma later this year.
Runners up (in no particular order)
Lucy Whitehead, Northern. Lucy achieved her level 2 in horticulture as an apprentice with English Heritage and is currently on a project to design and manage a garden for the benefit of dementia patients, with plans to include a sensory, cut flower and kitchen garden. She has a passion for social horticulture which is accessible and enjoyable for everyone and looks to move into this area of garden design.
Lawrence Weston, West-Midlands and South Wales. Lawrence currently works in the kitchen garden at RHS Rosemoor under a specialist horticultural placement. He is passionate about market gardening and is an active member of the Land Workers Alliance, with the hopes of one day having a market garden where he can provide local and organic food for his community.
Richard Carden, North-West and North Wales. Richard is a gardener at Cholmondeley Castle, he started there in 2017 after completing his City and Guilds Diploma at Reaseheath College, Cheshire. He hopes to return to education and complete a science degree so he can move into vaccine and medicine research.
Eileen Gahan, Ireland. Eileen studied the Teagasc gaining a Level 5 Certificate in Amenity Horticulture, after which she worked in a range of spectacular gardens across Ireland. This has led her to the National Botanic Garden, Glasnevin, where she is currently studying a BSc in amenity horticulture. She also works part-time as a craft-gardener on a private estate, with a hope to continue craft-gardening as her career.
Jon Strauss, Eastern. Jon has recently set up his own business, having left the Emmanuel College gardening team. He has been lucky to work around many of the important gardens across Cambridge and was lucky enough to get the opportunity to train at the Cambridge Botanic Garden. His favourite area of horticulture is protected environments, particularly glasshouses.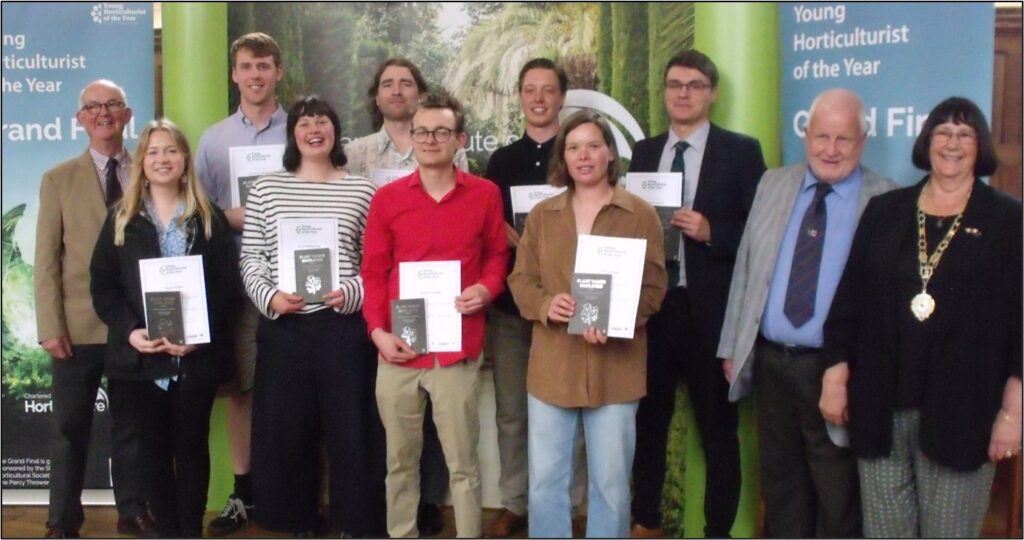 Victoria George the Competition Chair said "I was on the edge of my seat! This year we had a new round structure with an extra round and additional questions, as a result, going into the last round with James and Lewis neck and neck, it could have gone either way! I don't think I have ever been quite so nervous during a competition to hit the reveal for second place! I would like to personally thank Brendon Simms and Harriet J Carey of Emmanuel College for all their organisation, and the wider team for making everything so perfect".
We are extremely grateful to all the sponsors who have supported this year's YHoY competition, without whom this competition wouldn't be possible.
Shropshire Horticultural Society
Percy Thrower Trust
Emmanuel College
Bord Bia (Irish Food Board)
Bulldog Tools
PlantNetwork
Adrian Stockdale: 'Plant Names Simplified'
North of England Horticultural Society
Howard Nurseries
Cherry Lane Garden Centres
Provender Nurseries
Kew Gardens
The Newt in Somerset
Dundee Botanic Gardens
Pershore College
Wepre Park
The Outdoor Room
National Botanic Garden, Glasnevin
Newby Hall Garden
Barcham Trees
Stockbridge Technology Centre
Glasnevin National Botanic Garden
To follow the journey of our competitors and the 2023 competition visit us on Facebook.com/CIHort, Twitter.com/CIHort
Instagram.com/cihort
Linkedin.com/company/the-chartered-institute-of-horticulture
You will also find a recording of the Grand Final on our website www.horticulture.org.uk
The 2024 Round 1 opens Thursday 1st February 2024!