The Grand Final for the 2022 Young Horticulturist of the Year competition took place on Saturday 7th May at the University of Warwick. This year's competition was a close fought contest, with all finalists demonstrating their broad horticultural knowledge.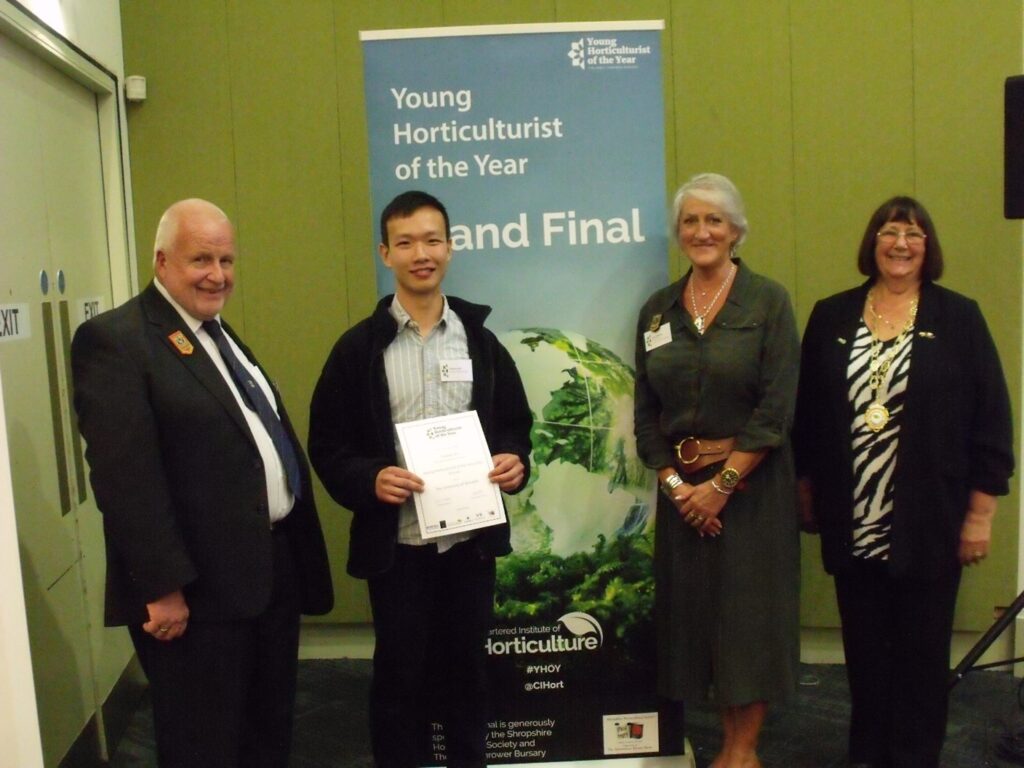 Charles Shi (South East) is a Botanical Horticulturist in the Arboretum at the Royal Botanical Gardens, Kew where he looks after the Rhododendron Dell. He has a keen interest in the application of plants in science and hopes to study this further in the future. Other interests include pagodas and their surrounding plantings and watching a garden change over the season. He also has a passion to create a garden which evokes strong emotion.
He said "It has been lovely to apply the knowledge I'd learned over my time in horticulture in such a way. The atmosphere was electric and the buzz, real. A highlight for me was meeting the amazing people at the event, organisers, and contestants all brought together by a passion for plants. Horticulture is such a broad subject area, and we all have our specialisms, so it was great to speak to and see this reflected in the other contestants. My first thought about using the travel bursary is to see some of the horticulture in Japan. I have an avid interest in wabi-sabi, as well as the Buddhist and Shintoistic philosophy, particularly their reflections in the Japanese Garden".
As the winner of this year's competition, Charles receives the £2,500 travel Bursary provided by the Percy Thrower Bursary, which he will be able to use to fund a horticultural trip to anywhere in the world.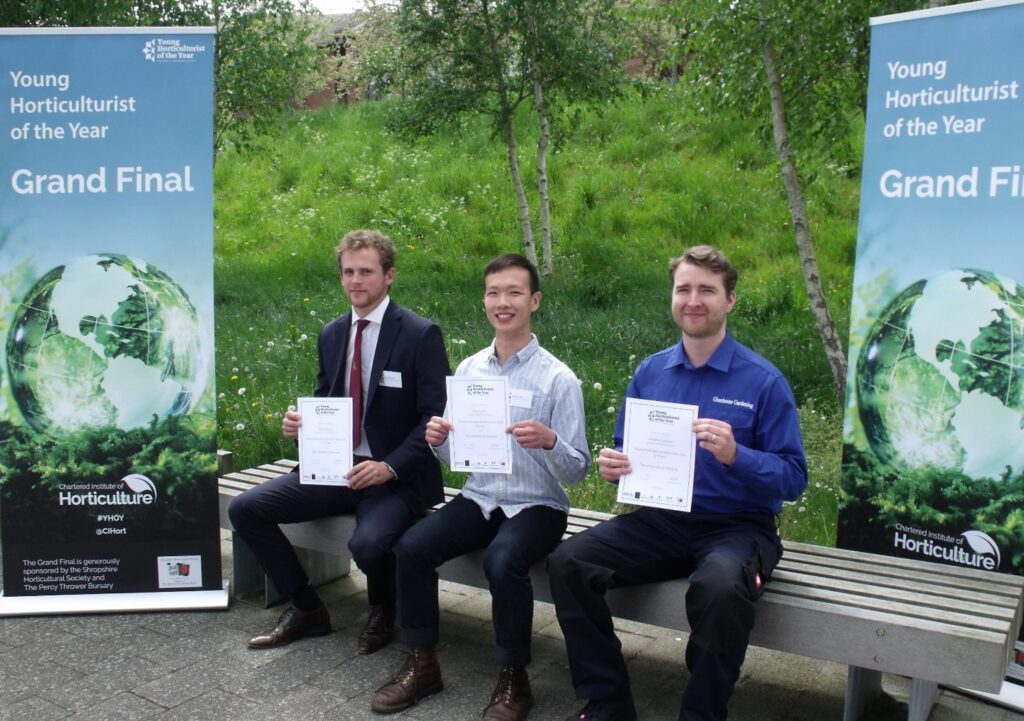 Second place went to David Pearce, (South West) is the Head Gardener at Whatley Manor which has an emphasis on ecological and sustainability horticulture. David hopes one day to curate a botanic garden, applying his passion for conservation, education and ecology to safe-guard and conserve our plant species for the future.
Third place went to Jonathan Strauss, (Eastern) who is a gardener at Emmanuel College, Cambridge and has recently setup his own business providing specialist care for privately owned glasshouse and conservatory plant collections.
Runners up:
Sarah Simpson (Ireland) is the assistant manager at Tully Nurseries in Dublin. Sarah's main areas of interest are sustainable and ecologically focused landscape design and cut flower growing/floristry.
Stuart Harding (Scotland) is working at Holyrood Palace with Historic Scotland where he maintains and develop the gardens for the Royal Household.
Lucy Whitehead (Northern) is working as an apprentice gardener with English Heritage at Belsay Hall near Newcastle. She is also a member of the National Sweet Pea Society and an avid grower of both cultivated and species Lathyrus.
Aidan Hopkinson (North West and North Wales) is in his final year of his Professional Gardeners Guild traineeship, working at Chatsworth House. Aidan is a keen plant collector, and has particular interest in alpine species, arid plants, unusual and perennial vegetables, fruit and herbs.
Cameron Docker (West Midlands and South Wales) is studying at Pershore College, undertaking a growers apprenticeship while working at the college. Career aspirations include working with tropical plants abroad as a grower or setting up a business which helps the environment.
Victoria George the Competition Chair said "The 2022 Grand Final was full of sunshine, excitement and fantastic finalists and it was a pleasure to see everyone have a great day. The University of Warwick did us proud and I thank them along with all our sponsors for their support to make this competition possible. We were very lucky to have Ann Kirkham, one of Percy Thrower's daughters, attend the Final and present the certificates, along with the new Shropshire Horticultural Society's President Maelor Owen, thank you both for attending and help make the day that bit more special."
We are extremely grateful to all the sponsors who have supported this year's YHoY competition – Shropshire Horticultural Society/Percy Thrower Bursary, University of Warwick, Bord Bia (Irish Food Board), PlantNetwork, Adrian Stockdale, current Editor of the 'Plant Names Simplified', CEC Catering, Cherry Lane Garden Centres, Core Landscape Products, Floreus Horticulture Consulting, Howard Nurseries, North of England Horticultural Society (Harrogate Flower Show), Rollins-Bulldog Tools Ltd, Royal Horticultural Society (RHS Wisley and RHS Harlow Carr), Somerleyton Estate, Stockbridge Technology Centre, The Caley (Royal Caledonian Horticultural Society), The Newt in Somerset, The Outdoor Room.  Without whom this competition wouldn't be possible.
To follow the journey of our competitors and the 2022 competition visit us on Facebook.com/CIHort, Twitter.com/CIHort, Instagram.com/cihort, and Linkedin.com/company/the-chartered-institute-of-horticulture. You will also find a recording of the Grand Final on our website.
Visit our website www.horticulture.org.uk for more information about the competition. Next year's competition will start in February 2023.