Date – 10 November 2021
Time – 2:00 pm - 3:30 pm
The 26th UN Climate Change Conference of Parties (COP 26) is being held in Glasgow, from the 31st October – 12th November 2021, uniting the world to tackle climate change. To mark the event, The Chartered Institute of Horticulture is showcasing Best Practice Across the Horticulture Industry in meeting the UN's Sustainability Goals over two afternoons in November – 3rd and 10th November 2.00-3.30pm. Following on from these two afternoon sessions, Scotland are hosting their popular annual Grow Careers event on 17th November 1.00 – 3.00pm. All are online Zoom events.
Wednesday 10th November 2021 – 2.00-3.30pm
Hosted by Leigh Morris CHort FCIHort, CEO Manx Wildlife Trust, past President of the Chartered Institute of Horticulture
Prof. Alistair Griffiths FCIHort – 'Planet Friendly Horticulture and Gardening – Net Positive for Nature and People'
Rob Parker – 'Can our soils hold the key to solving climatic, economic, and commercial challenges within the salad sector?'
Leigh Morris MSc CHort FCIHort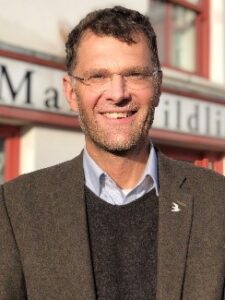 Leigh's horticulture career spans nursery plant production, land-based colleges, the Royal Botanic Garden Edinburgh and past President of the Chartered Institute of Horticulture. His passion for plants and nature evolved over the years more towards biodiversity and environmental conservation. Leigh served for seven years as a Trustee of the Marine Conservation Society, was Director at the Royal Zoological Society of Scotland, and then spent two years immersed in environmental conservation in the UK Overseas Territory of St Helena. Leigh took up his current post as CEO of Manx Wildlife Trust (Isle of Man) in January 2020, where horticulture remains a key part of his remit, including developing a new course in Wildlife Gardening this year!
Prof. Alistair Griffiths FCIHort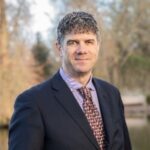 Prof. Alistair Griffiths discusses the Royal Horticultural Society Sustainability Strategy and Mobilising Britain's 30 million+ Gardeners to Tackle the Climate and Biodiversity Crisis. Alistair highlights opportunities for the horticulture and landscape industry and government to put the green (plants) into green infrastructure delivering Net Zero Target, Net Positive for Nature and People.
Biography
Alistair is responsible for managing the RHS's team of scientists and sits on the RHS Executive Board. He leads a highly skilled team of scientists focused on undertaking scientific research to provide high-quality, evidence-based solutions to address horticultural challenges. He has a First and National Diploma in Horticulture from Myerscough College and obtained his BSc (Hons) and PhD from the University of Reading and is a Visiting Professor of Royal Holloway, University of London. Prior to the RHS he was a key player in using horticulture science to create the award-winning Eden Project, spending a decade there as Head Scientist. Alistair is a UK representative on the Council of the International Society for Horticultural Science, a Fellow of the Chartered Institute of Horticulture and of the Royal Society of Biology. He sits on the Government's Ornamental Horticulture Roundtable Group (OHRG) and chairs the UK's OHRG Horticultural Scientific Research and Development Group.
Alistair is interested in how gardens, gardening and growing garden plants sustainably (indoors or out) can help towards improving the wellbeing of people and the planet, he is co-author of 'Your Wellbeing Garden: How to Make Your Garden Good for You – Science, Design, and Practice' and lead author of the new RHS Sustainability Strategy, Net Positive for Nature and People. His ambition is to build a more resilient gardening community who enjoy their gardens and who take positive actions by using their gardening handprints to maximise the health of our nation and planet.
Rob Parker

As salad farming methods are being challenged by customers and politicians on their ability to be sustainable, many growers are changing from the ground up. Focusing on peat reduction, changing soil management, and increasing diversity has the potential to benefit the environment, reducing food waste, and enhancing our customers eating experience.
Biography
Rob Parker is Chairman of the British Leafy Salad Association and Open field and protected R&D Committee member. Rob has worked for the G's Group in the salad sector all his professional life, after graduating from Harper Adams University College in 2003. Brought up on a family farm on the Lincolnshire silts, Rob is a passionate, enthusiastic, driven individual who drives innovation and progression within the sector. Rob is now Leafy Crop Manager for Cambs Farms Growers Ltd as well as MD of G's Growers Nurseries Ltd responsible for over 1200 ha of lettuce production in the UK. Primarily retail supply focused, Rob understands the customer needs but at the same time fully appreciates the economic, logistic and environmental challenges growers face to meet their requirements.
Registrations for this event have now closed.