As part of our ongoing mission to inspire and encourage people into working within our fantastic industry, we have carried out a series of interviews to show what a career in horticulture can look like. We went to Walberton & Binsted Nurseries in West Sussex and this time met Briony Howe, 25 year old Team Leader, and we asked her to answer a few questions for us.
Why do you enjoy working in horticulture?
I've always had a passion for horticulture from a young age, I've always enjoyed working with the plants and the environment and the people who have various skills and talents and I have always tried to learn from them.
What first interested you about horticulture?

The use of plants and different textures because every plant is different, I am always  in my greenhouse trying to find different ways of organising the plants. I always find it interesting because there is always something new to learn.
How did you get started in horticulture?
After gardening with my grandparents, I went to Merrist Wood college for 3 years and got a national diploma in horticulture. With a new found understanding of almost every aspect of horticulture, that helped me get into the industry. My first job was a work experience, 300 hours of working in a garden centre over Christmas.
Do you enjoy being able to work outside?
I love it, my family come from a more administration based background and I am the only one that likes being outdoors. I can't stand sitting in an office all day constantly typing!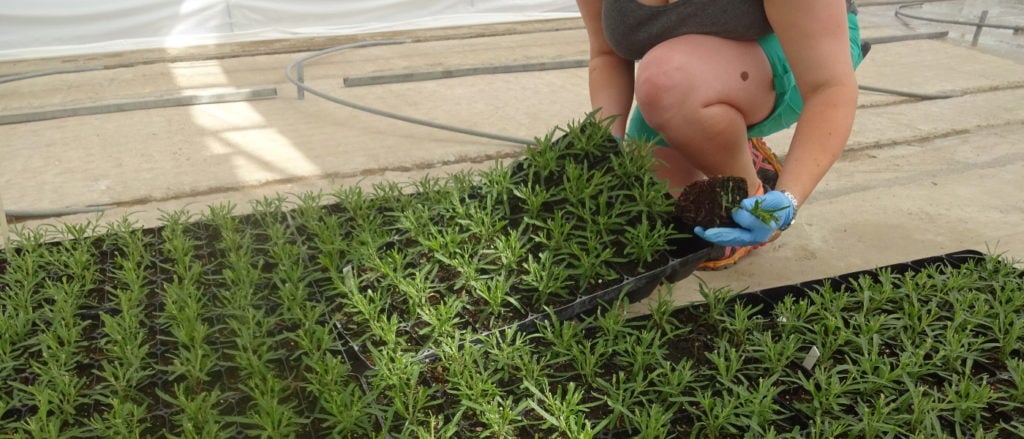 What can you tell me about an average day here, what do you get up to?
It differs, because I am a team leader I am not based in just one department. I am usually potting, despatch or propagation or general maintenance for the crop growers.
What's the best part of the job?
I think for me it's being able to use my skills, because I am quite young people expect me not to have the level of experience that I do. but it's great to be able to set targets and see how you can progress, get your hands dirty and see all the different aspects of a production nursery.
What is the most challenging part?
I think for me I've got Asperger's so I have a communication problem. I try not to let it affect me and because I don't have a lot of team leader experience it's hard to explain to new staff members how we are doing things and changing things.
What is your biggest work achievement?
I think it's being here for a year, my longest running job is here and I think that's a great achievement, having the opportunity to work with such amazing people.
What advice would you give someone that's looking to start working in the industry?
Because I had a good horticultural education I would say it's best to get your education started first, and you can then use that education to gain experience. I would say don't be afraid to try new things, there are loads of sectors in horticulture, if you're not enjoying it don't be afraid to try something else!
What would you like to do in the future?
I would love to be a manager of a department, I do love working with young plants and seeing them grow and then being sent off to the crop growers. That's the direction I am going for, or I would love to have my own business, a small nursery maybe.
Overall why would you tell someone to work in horticulture?
It's an adventure, there's always something around the corner. Whoever is around you will always give advice on how you can adapt how you are doing your job. Just don't be afraid to ask, people will be happy to help because we have all been in that position before.